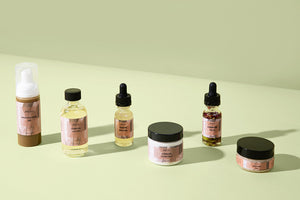 with June been acne awareness month and our one year anniversary we decided it was time for another challenge box, with giveaways of course!! 


These are the products Ke'Andrea (creator of TakeCare) used personally to clear up her acne! Photos below! 


This box comes with 6 products! 

-African Black Soap
-Cucumber Rose Toner 
-Hydrating rose serum
-Cucumber Rose Face Moisturizer 
-Glowing Aura Oil
-Pumkpin Enzyme Mask (1-2 times a week for oily skin) (1 time for dry/sensitive) 
works for all skin types!